Tea made in Argentina
Who was the first Argentine to say "Let's have a cup of tea"? The history of Argentine tea began in 1923, when the priest Tijón Hnatiuk arrived in northern Argentina from Ukraine and brought with him a pack of Camellia sinensis seeds. The area was soon filled with plantations.
Argentina has a total of 39,800 hectares of tea plantations. Of the total, about 38,000 are located in the province of Misiones and almost 1,800 in the province of Corrientes.
Argentine tea production is now recognized all over the world for its leading use of harvesting, transport and unloading technologies. Factories are equipped with machinery that automates the entire manufacturing process, including withering, rolling, fermenting, drying and sorting.
Organic Tea
What is organic tea? What is the difference with conventional tea?
When enjoying a cup of tea, we often don't pay attention to its production method. We usually focus on its antioxidant effects and its relaxing benefits. Organic or eco-friendly tea has the same properties as a conventionally made tea, so there is no difference in its consumption.
However, there is a big difference in terms of its production. Organic tea is grown by taking care of the soil and with a commitment to sustainable production over time. In addition, to be considered organic, there have to be no chemical synthesis products involved in its production.
Argentina is the second country with the highest number of certified organic hectares in the world.
Most common organic teas
● Organic matcha: A green tea variety with the highest demand, as it is ingested by mixing the ground leaves with hot water.
● Organic green: Organic Sencha, Lung Ching or organic gyokuro tea are leafy green teas that follow matcha in terms of demand.
● Organic chai: This variety has sparked a high degree of interest with consumers. It is a blend of black tea with spices, typical of India.
● Organic black: Black tea is the most traditional type of tea in the West, and the most consumed in Europe. Organic black tea can be obtained from different countries, such as India, Sri Lanka, etc.
● Organic white: A very sought-after type of tea for its high level of antioxidants.
Why choose an organic tea?
The benefit of choosing an eco tea is that, in addition to being good for the sustainability of our planet, it has no differences with conventional tea in terms of properties and flavor.
At Puerto Valle, we believe that it is important to keep in mind that when drinking tea we have a responsibility to take: assuming a sincere commitment to the care of the environment.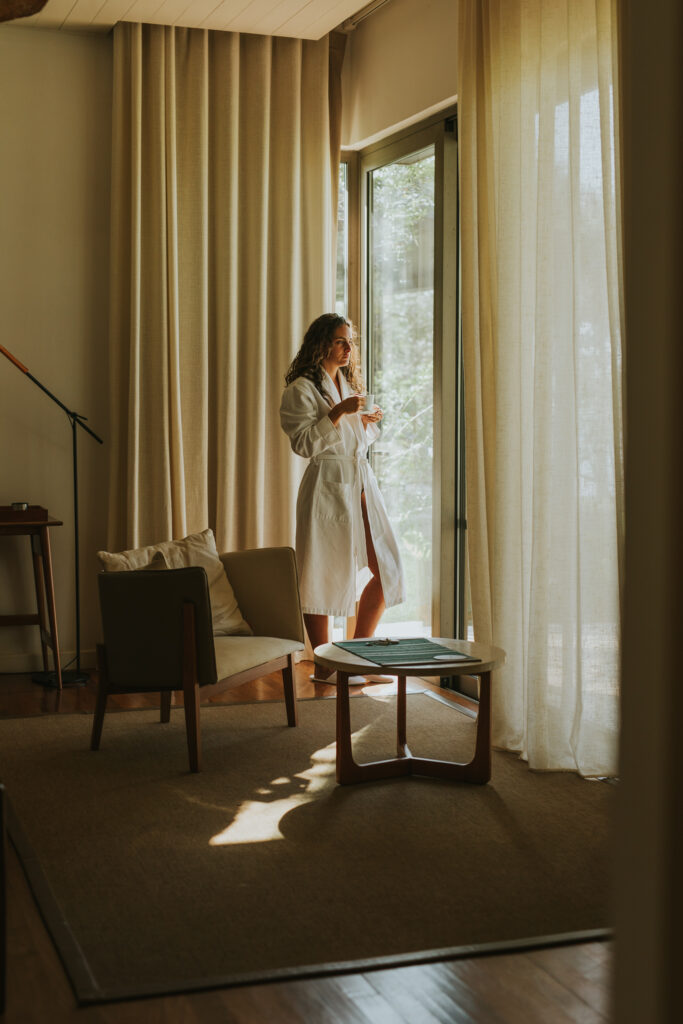 Tea and sustainability in Puerto Valle
In Puerto Valle, we choose suppliers that make products with quality and excellence and with sustainability standards. One of them is AkashaTea: It makes a tea that revolutionizes the Argentine industry for its great ability to adapt to changes in the modern lifestyle while keeping a high product quality.
AkashaTea is the first company in Argentina to provide entire strands in pyramidal bags.
This innovative packaging allows them to:
● Pack larger strands.
● Pack more.
● Pack a greater variety of ingredients.
The tea farms are certified by the MartinBauer Group, a German tea company established in Misiones. The Rainforest Alliance certification seal identifies its tea as a product made by farmers, foresters and / or companies that work together to create a world where people and nature can thrive in harmony.
At Hotel Puerto Valle you'll find Akasha Tea in our Deluxe rooms, the ideal treat to enjoy while contemplating views of the Paraná River.
Through small actions, we continue contributing to a more sustainable world. We are aware of the importance of working with local suppliers and we are proud to offer AkashaTea teas.
You may be interested in